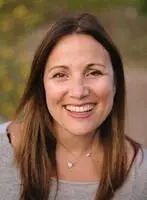 Therapy is a collaborative relationship between myself and my clients. We take about an hour a week ( more if it f eels appropriate) and explore, challenge, process and change the approaches that you take to the relationships and experiences that you are having in your life.
Therapy is a supportive and thoughtful experience that may be hopeful, difficult, funny, tiring and many other things. My hope is that we will work together to grow both your capacity as well as your resources so that you can live a happier, healthier life.
I am a Licensed Marriage and Family Therapist (MFC 46538) and Registered Art Therapist (ATCB # 09-221) in private practice working with children, adults, couples, and families in the Los Angeles area dealing with many concerns.

Relationship Issues
Medical Experiences
Life Changes
Self-Esteem/Self-Acceptance
Anxiety/Fears
Depression
Grief and Loss
Child and Adolescent Issues
As a survivor of childhood cancer I have a special interest in working with individuals and families going through a medical experience. This is what initially brought me to clinical work.
In my training I have found that I have expanded the areas that I find compelling and engaging. I have worked with people experiencing the challenges and changes in trying to create a family. I enjoy taking the journey with women as they negotiate with themselves, "who am I now that I'm a wife, a mother: what is my relationship with my body throughout these life changes?"
Identity questions such as these are of such importance for children and teenagers as they navigate often difficult and overwhelming social and familial experiences such as moving, changing schools, divorce or family blending.
I take both a creative and somatic approach to therapy with an educational background in literature/creative writing as well as art therapy. I have completed training in Somatic Experiencing® and PACT.
Education
University of California, Irvine - B.A. Literature
Phillips Graduate Institute - MA Psychology - Marriage and Family Therapy and Art Therapy

License, Certifications & Awards
California Marriage and Family Therapist - MFT#46538
Art Therapy Credentials Board, Inc. /ATCB - ATCB # 09-221
Additional Training
Somatic Experiencing®., PACT
Professional Activities and Memberships
CAMFT- California Association of Marriage and Family Therapists Member
AATA - American Art Therapy Association Member